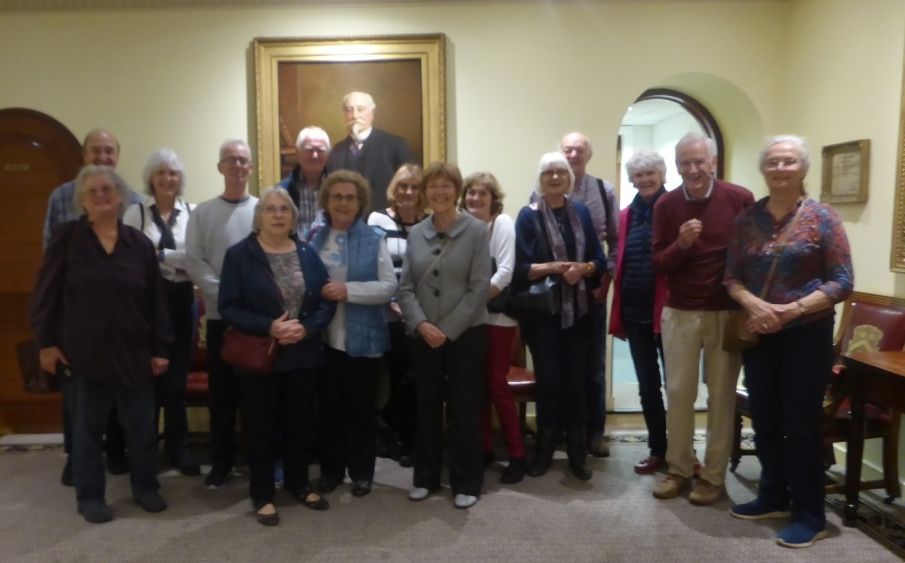 The Vintners Company, founded in 1363, is one of the 12 great City of London Companies, and members of London Studies 1 had the great privilege of visiting its home, the ancient Vintners Hall, in October 2022.
Our guide gave us an outline of the history of the Vintners Company which is still the centre of the worldwide wine trade. It is visited by the top 150 wine merchants, although much of its business today revolves around charitable institutions relating to the wine trade. There are 500 members and application for membership is open to individuals who are either directly connected with the wine trade, have been through the requisite apprenticeship, or have family connections.
We were taken to the ancient Court room which claims to be the oldest continuously utilised room in London. It is here that much of the business of the Vintners is carried out surrounded by paintings of past masters and royalty. We then moved upstairs to the reception room and were shown how visitors are greeted in advance of a grand dinner. Here we heard that the Vintners regained its privileges following the Civil War after paying a penalty whilst the master was made Lord Mayor of London. Then, after passing the charter granted by Queen Elizabeth the First and fifteenth century tapestries, we heard about the company's connection with swans since at least the time of Henry VIII. We next emerged in the magnificent Dining Hall that was laid out for a dinner that evening (although not for us!). This was followed by passing through some newer rooms before we ended up returning to swans and hearing of the involvement of the company in swan upping. And this brought a conclusion to a thoroughly enjoyable visit. The only thing missing, in the circumstances, being a glass (or more!) of wine.