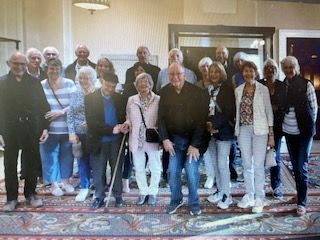 On 6th October, 21 members of London Studies 1 visited historic Trinity House near Tower Hill.
Trinity House is responsible for lighthouses, lightships, buoys and other sea navigational items around England and Wales as well as being a charity for retired seamen and training cadets. It dates back to the reign of Henry 8th when Deptford based mariners complained about poor piloting in the Thames and the North Sea and sought some form of regulation. Since it's formation Trinity House has been responsible for the building of many lighthouses and lightships and currently has a fleet of three of the latter. Amongst other matters it also licenses pilots of which there are now around 500.
Our guide showed us around the magnificent grade 1 listed building which is the third in its history. The previous 2 were destroyed by fire whilst this one was very badly damages during the Blitz with just the shell remaining. However as we found out it has been superbly restored. We were shown around the main rooms decorated with paintings and artifacts that have survived or are replacements whilst being told about the history of the organisation and those involved with it. Perhaps, however, the most enjoyable part was seeing the large collection of ship models tracing the history of Trinity House.
All members present enjoyed a thoroughly interesting and informative visit on what was possibly the last sunny warm day of the year.