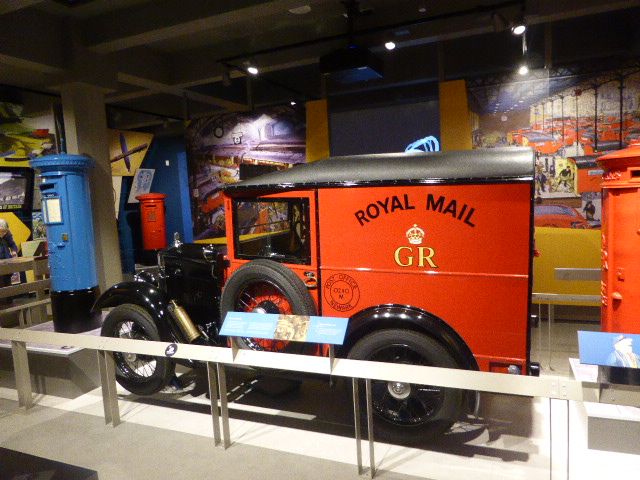 This London Studies tour proved to have been the most challenging to organise to date, due to the teething problems of the newly opened London Postal Museum (Exhibition) & Mail Ride.That said, the wonderful turnout for this trip (29 members) certainly made the efforts more than worthwhile.
The Postal Museum covers two separate sites on opposite sides of the road. On arrival at the Postal Museum and on receiving our wrist bands we headed back across the road for the Mail Rail Ride.

Excitement built as we started down the stairs to the underground area, to await instruction to board the train. This in itself proved quite challenging in terms of the small spaces provided. After all, these trains were originally designed for mail bags not humans. Then we were off, on an underground journey steeped in history. A running commentary and film extracts along the way informed us of the by-gone days of the mail rail service.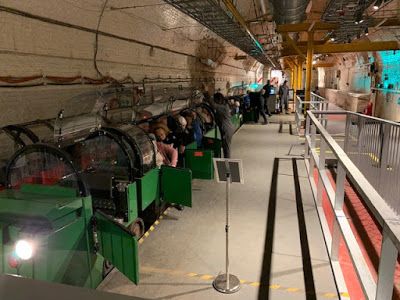 There was a slight air that the best of the day had passed us by as we headed back to the Postal Museum for a coffee before continuing our day visiting the 'Exhibition'. Our mood was soon revived on entering a world of 'colour' and 'cheeriness'. Excellent information displays made it easy to read and absorb further history of our postal service.
The interactive points, proved enormous fun, especially amongst us more childlike adults within the group, including designing a self-image postage stamp. Our Chairman, joined in, 'sorting' the mail whilst travelling on a train simulator looking very much the part in his appropriate postal uniform. All too soon our visit came to an end at the Gift Shop with a gathering of the group before heading off.
Our next and final port of call for the day was The Castle Pub whereby arrangements had been made for the private use of the upstairs bar in order that we could all seat comfortably and enjoy our pre-ordered meals and drinks at the tables provided. The atmosphere was of laughter and chatter as people exchanged their experiences of the morning.
Not only had our journey up to London run smoothly but the return trip back to Edenbridge Town ran just as easily, a perfect end to a thoroughly enjoyable day.
Isobel Lanyon