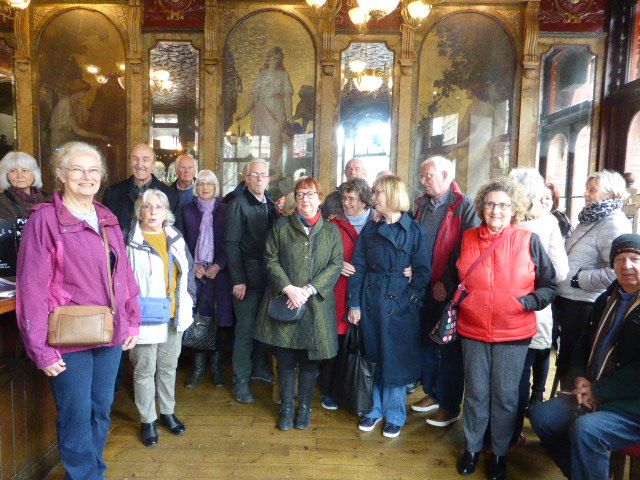 On 29th March 2022 London Studies One had its first excursion of the year with 29 members taking part. This was to be an Old Bailey tour which, as it happened, turned out not to include the Old Bailey! More of this later.
After travelling from Edenbridge and surrounding areas we arrived at the lovely Victorian pub, the Viaduct Tavern, in London (see photo). There we received complimentary coffee before meeting up with our guide, Chris, who related the, sometimes gruesome, history of Newgate Prison, which predated the Old Bailey, and the fate of those who attended there, with more dying whilst awaiting trial than were actually executed. We were shown where those executions took place before they were relocated to Tyburn. The executions were, we were told, a very popular source of public entertainment with high prices paid for the best vantage points. Often hangmen could be paid more if they could stretch the hanging. (Forgive the pun!) After telling us about some of the more unusual cases, our guide gave us an insight into the work of lawyers today at the Old Bailey as well as telling us of the origin of the wearing of wigs by judges and others.
After the talk we wandered down into the cellar to see some cells from the Old Newgate prison found during recent renovation work.
Our guide then gave us a list of trials underway at the Old Bailey that day before we headed there with the intention of selecting ones to see - or so we thought! Unfortunately, when we got there, we discovered that there were no spaces available in any of the public galleries. This was disappointing but, rather than end the tour prematurely, our guide took us to the Royal Court of Justice where we were able to admire the grand architecture. This was followed by a tour around 'legal London' before returning to the Viaduct Tavern and then splitting up for our return home.
So, in a nutshell, all present enjoyed the opportunity to get together again and seemed to have a nice time despite missing the intended 'main event'.