On a lovely but unseasonably sunny and warm day in February a group from London Studies One visited the Museum of the Order of St John.
After the obligatory coffee stop we took the short walk from Farringdon Station through fairly nondescript buildings until we turned a corner and there in front of us was the magnificent Gatehouse dating from the sixteenth century. After admiring this edifice we moved into the main building of St John's Gate where we were greeted by our guide. He explained the history of the different strands of the organisation whilst we went through the various rooms including the Grand Chamber where the crests of past masters were displayed.
We moved through rooms associated with many famous people before we entered the Malta Room. Here we heard how the Knights of St John had originally served as hospitallers for pilgrims in the Holy land in the eleventh century but had evolved into a fighting force and used to hold back the advance of the armies of the Ottoman empire on behalf of the Christian faith. They had been driven out of the Holy Land in the 1291 and then, progressively from Cyprus and Rhodes before ending up in Malta where they had held out in a siege lasting four months in 1565 - stemming the tide. They remained there until Napoleon invaded the island in 1798 whilst en route to Egypt.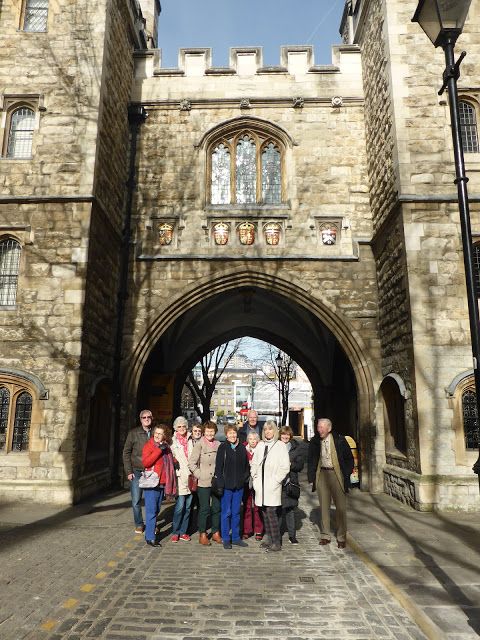 Meanwhile back in the UK the English Order had been formed in the 1140s in the Priory in Clerkenwell but had been dissolved briefly by Henry VIII and then permanently by Elizabeth I. For centuries afterwards the building went through various ownerships and usages including being the office where 30 of Shakespeare's plays were licensed as well as a pub where Charles Dickens was one of the clientele. Eventually the order was reformed in 1831 and in 1888 was granted a Royal Charter as a charitable organisation dedicated to first aid and care in the community. This included forming the now familiar St John Ambulance Brigade whilst it also established an eye hospital in Jerusalem. At about the same time ownership of the building was regained.
We then proceeded to the nearby Priory church which had been rebuilt after destruction in WW2 although the twelfth century crypt remained. That concluded an excellent and informative tour. We stopped for a brief view of the treasures in the museum before heading for a nice meal and then the train home. A most enjoyable day.