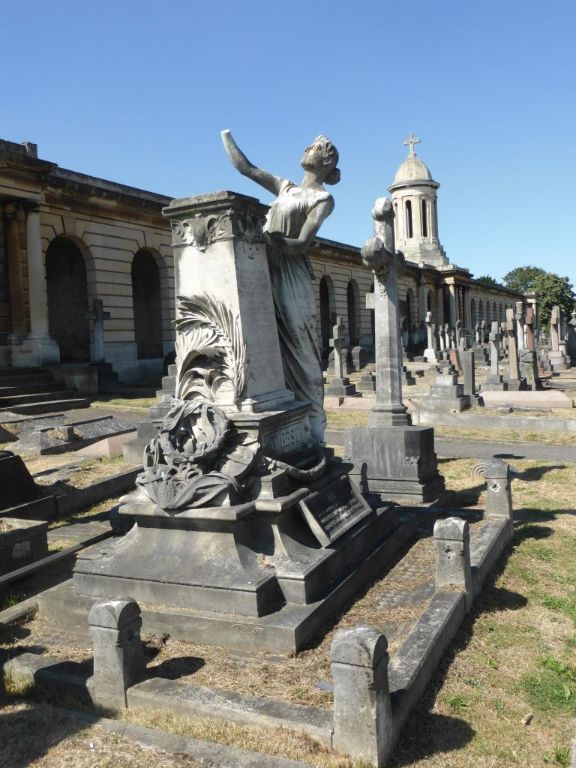 It has become a tradition for London Studies Group One to have a slightly less formal visit in August. And so it was this year.

14 of us gathered at the café in Brompton Cemetery on a lovely sunny and warm (bordering on hot!) day to see the last resting place of many well-known celebrities from the past.
We had a brief introduction to the magnificent seven large Victorian London cemeteries that were built to cope with the dual challenge of a large increase in London's population and the existing cemeteries having difficulty coping with the high mortality rate. Brompton was one of those and, although initially privately owned, has the dubious distinction of being the first Company in the Country to be nationalised. To this day it is managed by Royal Parks.
The Cemetery has around 200,000 burial sites but we thought that it would be a bit beyond our resources to visit them all! Accordingly, we concentrated on just 16 that had particular interest but took our time to observe other features of interest as we strolled along. We even came across a person from Edenbridge among the residents.
Emmeline Pankhurst is probably the most famous person who is buried there but others whose memorials we saw included a famous opera singer, a bare knuckle boxing champion, a First World War flying ace, the first man to drive at 100 miles an hour (who didn't last much longer afterwards!) and the very colourful manager of a pop group, as well as the spot where a native American chieftain once resided .
Well-known names that we observed included Sotheby and Cunard as well as Nutkin who it is believed was a source for one of Beatrix Potter's characters. We completed our tour by visiting the impressive memorial to the Chelsea pensioners complete with cannon balls.
In truth we could only scratch the surface in observing who was there and the significance of the various symbols on a number of the Victorian memorials. However, everyone seemed to enjoy the visit and finding out more about those persons whose memorials we did see. It has free entry and, on the day that we visited, the information office was open where very friendly staff were on hand to deal with queries. Well worth seeing.