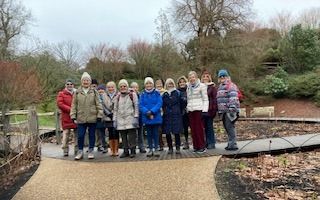 Our first visit of 2023 was to Wakehurst Place in Sussex. It's always a delight at any time of the year. Wakehurst is part of Kew Gardens and is a wild botanic garden, home to the millennium seed bank. It has over 500 acres of diverse landscapes to explore with plants from across the globe.
After a warming drink, and the rekindling of friendships from at least a month ago, we made our way to the winter garden passing the grade 1 listed Elizabethan Mansion. Sadly, this was surrounded by scaffolding for vital roof repairs which could take up to 2 years. Whilst this is going on Wakehurst is working on a unique artwork 'Planet Wakehurst', a huge photo montage featuring plants across their landscape, due this year.
The all-weather twisting path of the Winter Garden, with its 33,000 plants, is the perfect place to lose yourself amongst the shimmering bark, soft foliage and rich scents. The pure white bark of the Himalayan Birch is central to the show, interspersed with the coppery gleam of the Tibetan Cherry. These are surrounded by the vibrant reds and yellows of the Cornus (Dogwood), Winter Beauty and Flaviramea rising like flames in a fire. One cannot miss the delicious smell of the Witch Hazel, Himameus, and low on the ground were delightful small clumps of Galanthus Snowdrops.
Passing through the walled garden with many architectural features of plants enjoying their winter sleep, we moved on to the Water Garden. There we found a new viewing platform looking over the snaking stream and pathway. From here we wandered down to the entrance of the Loder Valley Nature Reserve, passing many different Daphne bushes before making our way back up to the Stable Tea Rooms for much needed warmth, sustenance and another chat! All in all, a very good and enjoyable visit to dispel the Winter gloom.
Stephanie and Penny
Group leaders