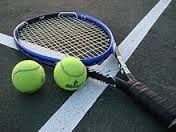 About the Group:
This is a relatively new group and new members will be welcomed. If you are interested in playing tennis, whatever your standard or want to learn or just keep fit, please contact the Group Contact below.
When and where?
We will meet fortnightly to have mix-in tennis sessions, playing at Cowden Tennis Club (2 hard courts) in Cowden Recreation Ground on Wednesday mornings at 10:00 am.
Cost?
Court charge is £3:00 per player.
U3A:
Edenbridge
Contact: