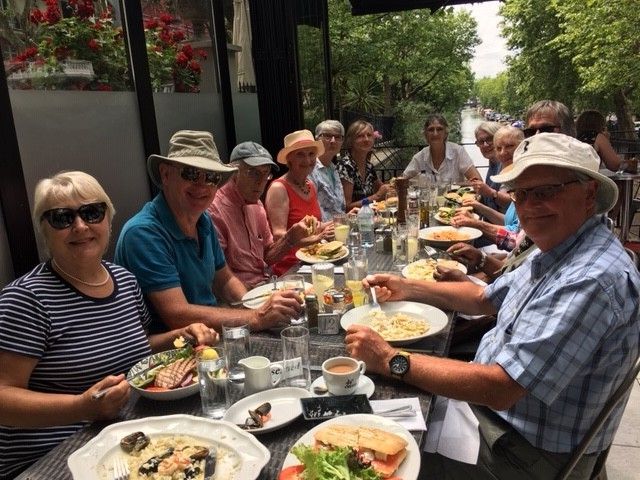 On 5th July thirteen of us from London Studies Group 2 travelled to Paddington Station to meet our guide Karen who was taking us on a two hour walk around The Paddington Basin, Little Venice, The Regents Canal and Camden Town.
Paddington Station is the terminus for the Great Western Railway and was designed by Isambard Kingdom Brunel. We admired it's wonderful wrought iron and glass three span roof. We passed a statue of Brunel and of course one of Paddington Bear in another part of the station.
Karen then led us through the station and on to the Paddington Basin. This canal basin was opened in 1801 and in its heyday was a major shipment link of goods into London. Horses would pull the boats along the canal and in places we could see the wear marks of the towropes. With competition from the railways and improvements to road transport use of the canal declined and in 2000 the basin was drained and redeveloped. It is now home to many offices, apartments, shops and restaurants. We walked over two very unusual pedestrian bridges – The Rolling Bridge designed by Thomas Heatherwick and the Fan Bridge.
We carried on along the towpath of the Grand Union Canal and then crossed over to join the Regents Canal and in to Little Venice. We strolled along in the sunshine admiring the pretty houseboats and the large waterside houses belonging to the rich and famous. After a welcome break for lunch we continued our canal walk passing London Zoo and into Camden Town.
All in all a very enjoyable and interesting day.
Judy Martindale.