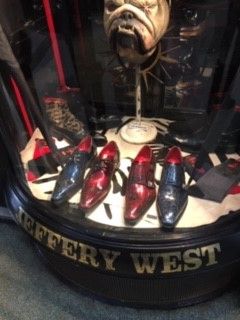 We were extremely lucky to take our trip to London on a dry and sunny day. Fourteen of us travelled to Charing Cross and then crossed Trafalgar Square to the Athenaeum Club, with coffee on the way.
Our two-hour walking tour around St James's and Mayfair charted the history of menswear over the past 200 years, and we were led by our guide, Russell Nash, who was impeccably dressed and extremely knowledgeable on the subject.
We started with 'Bertie', King Edward VII, who became a male fashion icon when he was still Prince Albert, setting a tone of extreme glamour for the time. He was credited with inventing the blazer and dinner jacket, and the undone bottom button of his waistcoat was taken as fashion but was probably due to overindulgence!
Russell talked about The Duke of Windsor who was very suave and well known for wearing perfectly fitting expensive suits, especially in tweed and even large check.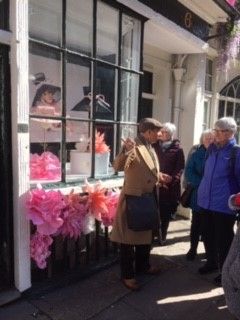 We passed John Lock's shop where the famous bowler hat was invented. This hat was intended to be worn by gamekeepers on the country estates as the round top did not catch on overhanging branches, and it was made with layers of shellac to made it hard, therefore providing protection against any aggressive poachers.
Then on to Lobb's the shoemakers who still hold many shoe casts of royalty and celebrities. Then Turnbull and Asser the well-known shirt makers. We talked about Bunny Rodger known for inventing the Capri pants, and Beau Brummel who created his own sleek style which was far less fussy. He also invented the shirt and tie.
We walked through Piccadilly and Burlington Arcade then, just outside the Arcade, Russell pointed out Montague Burton's first shop (and we all know Burton's readymade suits!).
Then on to Savile Row and Tommy Nutter, a tailor famous for reinventing the Savile Row suit in the 60s. We also saw Henry Poole's shop which is still in business making bespoke suits after 200 years.
We learned the definitions for suits:
Readymade suits - off the peg.
Made to measure - a few measurements taken and a couple of fittings.
Bespoke - about 50 measurements taken and many fittings.
We then crossed Regent Street to Carnaby Street and were told about John Stephen, the King of Carnaby Street, who was the first individual to identify and sell to the young menswear mass market in the late 50s and early 60s. We also heard about Rupert Lycett Green and his boutique shop Blades, again in the 60s.
Our tour ended in Newburg Street and we said goodbye to our guide.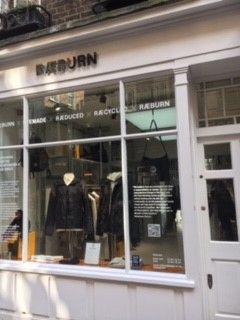 We then had our own tour of a foremost thinking fashion shop called Raeburn which is a responsible design shop particularly known for creating outerwear from decommissioned parachutes. The pioneering work by the founder, Christopher Raeburn, has brought responsible design to a mainstream fashion audience. The group found this concept very interesting and asked numerous questions.
We finished with a lovely lunch and caught the next train home.