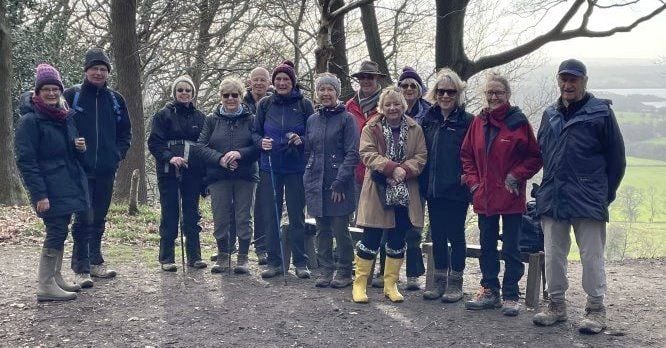 So far this year we have enjoyed 3 lovely walks around the Chiddingstone area, Ide Hill and in March we did the 3 Manor walk starting in Cowden going past Crippenden, Waystrode and Leighton Manors. We are fortunate to have such a range of lovely walking routes in our area. After each walk some of the group stay on for lunch so we have been trying the food offerings of The Castle Inn in Chiddingsone, The Cock Inn in Ide Hill and The Fountain Inn in Cowden.
Ground conditions have been variable as the dry weather of February resulted in some easier going in early March but the next walk will be much wetter underfoot given the rain most days in March.
The walks provide opportunity to catch up with those we know and to meet new members while enjoying exploring new walking routes in the local area. Numbers are limited to 15 to make the walks manageable and to cut waiting times when going over stiles etc. An e mail is sent out with details of the next walk and once the list is full I start a waiting list so if there are any cancellations their place can be filled.
The walks are on the 1st Wednesday of the month starting at 10am and usually last 2-3 hours approximately.
If you have any questions please contact Theresa Booker