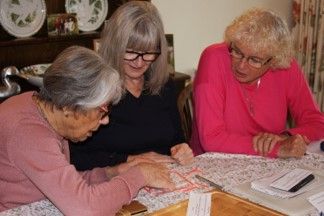 The aim of our group is to enhance our knowledge of basic science concepts. As science is now being taught in all primary schools in England we have children having good experiences of science which, as many of us are grandparents, we would like to share with them. Our group looks at key topics in science and tackles fun ways in which we can help our grandchildren with science at home.
A key part of this teaching approach in schools is through problem solving so at our January meeting the group were given two problems to be solve:
1. Using just 5 plastic or paper straws and a pipe cleaner make a two-dimensional square shape that is as rigid as possible.
2. Using just a potato and cocktail sticks make a tower to hold up one oxo cube as high as possible
The photos show members of the group tackling the problems.
Mike Collins, Group organiser