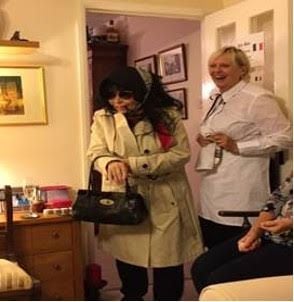 On Tuesday 11th February Wine Appreciation Group 1 gathered, under the cover of darkness, at the Cafe René Nouvion-en-Ponthieu, situated in the Hurst Green region. The Propriétaire was Monsieur René François Artois (alias Mike Collins) et assisté par Mademoiselle Mimi Labonq (alias Debbie Collins).
After the clientele arrived they were greeted with an 'Allo Allo' and were served a three course Menú du jour, offering a choice of 2 different wines per course.
As the evening drew on, choices of preference were recorded from each client in order to enable Rene to purchase them from the stocks, hidden by the resistance, for the future sales in the cafe.
As the evening developed, Michelle "of the Resistance" Dubois (alias Gill Flanagan) dropped in as she was 'pissing by the door'. She entered furtively, heavily disguised, to announce, 'only once', that the Gestapo, led by Herr Otto Flick, was in the vicinity of Oxted along with Private Helga Geerhart. They were searching for the painting of 'The Fallen Madonna' (with the big boobies). Quick decisions had to be made about the type of wines being tested and then recorded. There followed a short quiz on the subject of wine.
Thoughts and tastes varied and discussions went on late into the evening. It was lucky that no airmen required rescuing that night, as the secret transistor radio, hidden in a chamber pot, was out of action.
So the wine group enjoyed a quiet ending to the evening of wine tasting and frivolity and luckily did not disturb the German soldiers billeted in the village.