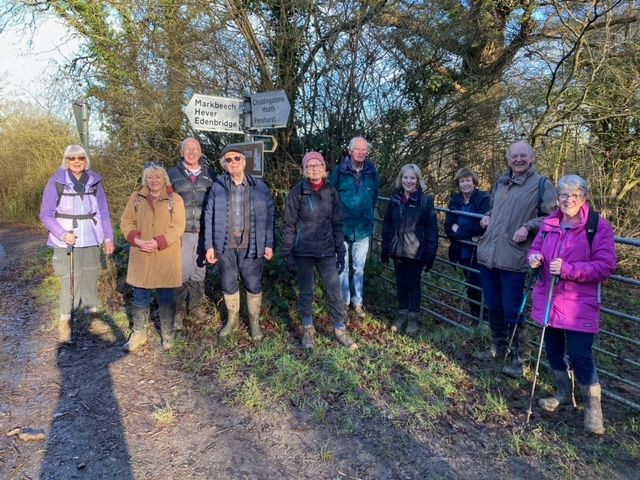 In spite of the challenges of Covid we managed 9 walks in 2021 while complying with the government guidelines of the time. Walking outside was one of the most popular activities of the pandemic and remains so as the threat of Coronavirus infections loom. During 2021 our walking routes covered Marsh Green, Markbeech, Crockham Hill, Hosey Hill, Chiddingstone, Penshurst, Chiddingstone Hoath, Limpsfield Chart and Westerham.
We are fortunate to have so many lovely areas to walk around with a network of footpaths crossing fields and woodland, and along country lanes. Walking is a lovely way to enjoy our local countryside and to have time to appreciate the many varied buildings from houses to barns, and to see the landscape from varying perspectives.
2022 started with a lovely (if rather muddy) walk around Hever with the sun shining which was a pleasant change from some of the murky weather we had previously.
The walks are a great way to catch up with those we know and to meet new people. When asked to describe what speed we walk at the answer would be a steady pace neither particularly fast nor slow BUT speed is subjective as what is slow to one person is fast to another.
We are now restricting numbers on the walk to 15 to make it more manageable and to cut the waiting time when going over stiles etc. An email is sent out 7 to 10 days before the walk and the first 15 to reply go on the walk. We keep a waiting list so if anyone drops out, we have reserves.
The walks are now on the 1st Wednesday in the month so keep a note in your diary and watch out for the email from Theresa Booker each month.
If you have any questions, please contact the Group Leader Theresa Booker on [email protected]
Photos from October and December's walks.