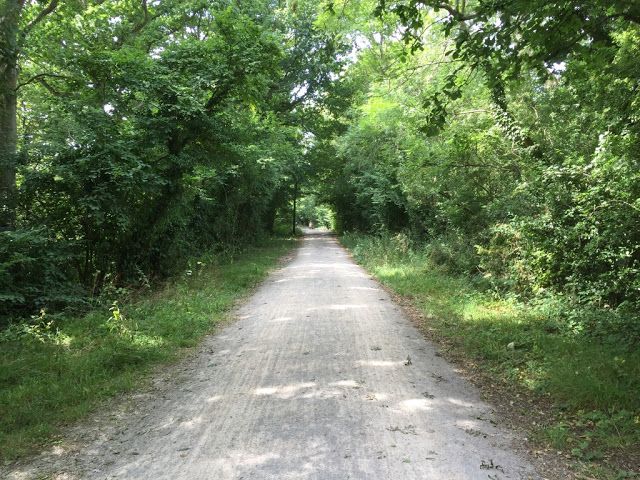 Worth Way
The Edenbridge U3A Cycle Group has been branching out of late. We meet approximately once a month and occasionally at other times. However, one of our rides involved packing the bikes into the back of our cars and driving to Worth just outside Crawley which is the start of the Worth Way - a former railway line now converted for cyclists, walkers and horse riders crossing Crawley Downs as far as East Grinstead Station. It's 6 miles approximately and we did the return trip with a stop just over half way at about seven miles for a picnic lunch overlooking the beautiful countryside.
Mid week it's relatively quiet, the weather was perfect for cycling and the company, as always, was genial. The route is mainly flat and certainly not too strenuous and the majority is safe and off road. We are thinking of travelling further afield in future as we have now done most of the local roads and lanes. We all ride at the speed we are comfortable with and we all enjoy the ride, chatting along the way (when it's safe of course).
We ended up at St Nicholas C of E Church or Worth Church as it's locally known and took the time to look around.this ancient building. Worth is the 4th oldest church in the country and has been a place of Christian worship and devotion for well over 1000 years. It is known that the church is of Anglo-Saxon origin and parts of it have been dated to between AD 950 and 1050, in particular the chancel arch and apse. It was built in what, at the time, was a forest. The reason for building a church here is unknown, but it is surmised that the area would have had good hunting grounds and royal or noble visitors to the grounds would need a place to pray in comfort. As it was a large church isolated in the forest, it is unlikely itwas just for local needs. After the Norman conquest of England in 1066, Wil iam the Conqueror gave the church to his son-in-law William de Warenne, whose coat of arms is still visible in the stained glass windows of the church. In the 14th century, the church was passed from the de Warrenne family to the Fitzalan family, who lost it in 1415 to the Nevills, Earl of Abergavenny.
We may branch out in future to do the Forest Way which starts at the other side of East Grinstead and the round trip would be 20 miles, with coffee stops on the way, of course.