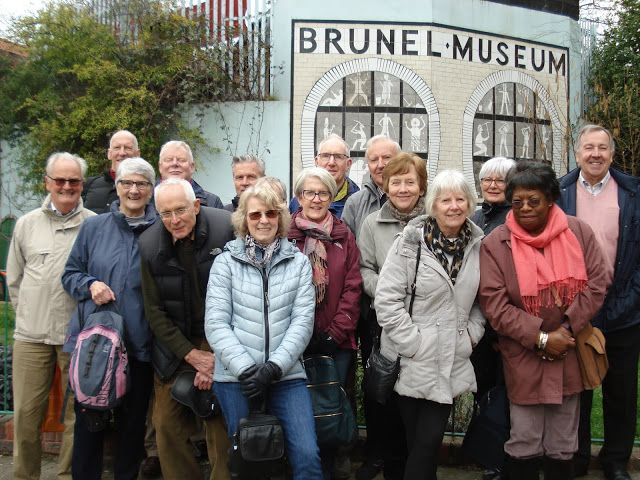 On 1st March, a cloudy but dry day, 16 of us boarded a Thames Clipper at Embankment pier and for the next 40 minutes were entertained by our enthusiastic and knowledgeable guide Robert. Heading East we went under 3 Brunel bridges, over 2 Brunel tunnels and, in addition, Robert pointed out many lesser known riverside landmarks.
We disembarked at Masthouse pier on the North side of the river on the Isle of Dogs and visited the launch point for Isambard Kingdom Brunel's huge Great Eastern iron sailing steamship. After Robert had outlined the amazing history of this ship we then walked on along the Thames Path with great views across the river to Greenwich.
Next we took a DLR train from Island Gardens having good views of Canary Wharf, Limehouse Basin etc, and then changing at Shadwell to go south. We got off at Wapping so that we could see for ourselves the walls of the Thames Tunnel in the headlights of the next train. Then it was on, under the Thames, to Rotherhithe station and the Brunel Museum, of which Robert our guide is the Director.
The group were taken down the tunnel shaft to hear stories of the highs and lows of the tunnel construction which took 18 years from 1825 to 1843 with some loss of life. The tunnel built by Marc Brunel and his more famous son Isambard Kingdom laid the foundations for the career of the greatest engineer of the time and also for modern Britain. When the railway was constructed in the tunnel in1869 it became the oldest tunnel in the oldest underground system in the world.
After a very interesting and fact filled tour some of us in the group headed to the historic Mayflower pub to warm up and enjoy lunch.