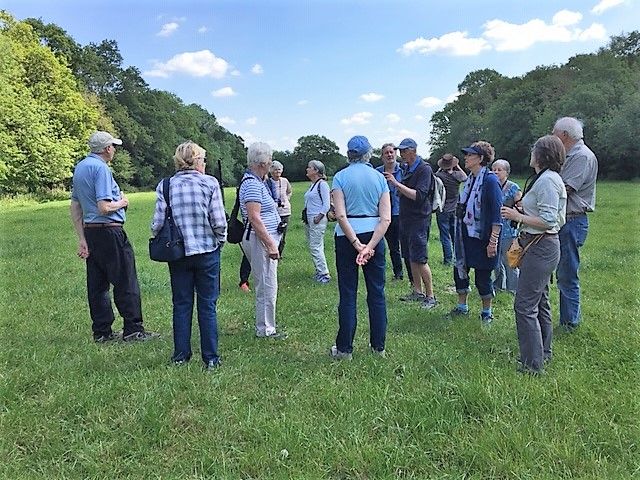 Golly gosh - aren't we lucky to live here. We have numerous green spaces on our doorstep but none more charming than the area around the Bough Beech centre alongside the reservoir. Here, this morning. the "boids choiped", the sun shone, the reed beds rustled and herons stood like statues or flapped languidly above. Suddenly a kingfisher flashed and dived across from the hide, shrubs and trees vibrated with the song of blackcaps and whitethroats, cow parsley and may blossom scented the air alive with the squawk and squeak of nesting common tern. Cuckoo calls echoed from all points of the compass confirming that Summer has certainly arrived. For a few short weeks all will be newly-painted and perfect as it was this morning.
Our first big treat was the view of a kingfisher diving for fish from a dead branch - posing just in time for us to catch it in the telescope. Blackcaps and whitethroats were everywhere - we could tell from their insistent song - but very difficult to see amongst the thickening foliage. Mr and Mrs. Coot each fed a black and red chick and young Canada geese waddled behind mum and dad in the long grass. It was exciting to witness the aerial twists and turns of the common tern diving at great speed into the reservoir to feed. These will have arrived recently from the tropics in the south. Some have already set up home and are nesting on the artificial islands created just for them. How do they know? - there are no signposts! Mandarin ducks lurked tantalisingly in the gloomy water under the trees - we couldn't quite see the full beauty of their colourful feathers.
We took a brief diversion up into the woodland walk that leads to Bore Place. Here we were stopped in our tracks by a song thrush singing its heart out high in the trees. We had hoped to hear a nightingale, but this was almost as rewarding. En route back to the car - just at that moment when everyone had stopped really looking - a peregrine falcon zoomed above us in a farewell flypast.
Here is our morning list...blackbird, blackcap, chaffinch, chiffchaff, coot, cormorant, crow, cuckoo, wood pigeon, goldfinch, Canada goose, great crested grebe, heron, kingfisher, lapwing, magpie, mallard, house martin, moorhen, peregrine falcon, robin, sparrow, swallow, common tern, song thrush, blue tit, whitethroat, mandarin duck. greylag goose.
Happy days,
Briar and Rog