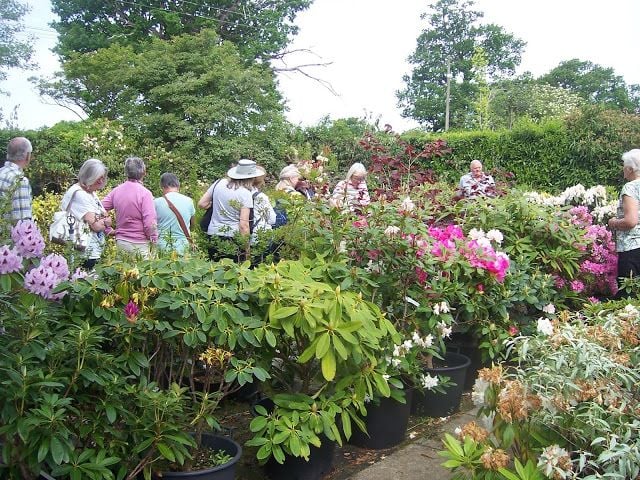 What a joy it was this morning to see a couple so happy in their work! We were privileged to spend time with Colin and Penny Tomlin in Starborough Nursery - a business they opened in 1982 situated between Marsh Green and Dormansland in an enviable position overlooked by the North Downs. Here Colin has developed a nursery predominantly propagating rhododendrons and has become a national (international?) expert in this field, supplying National Trust gardens, (including Nymans which we visited earlier in the year). the RHS and even Buckingham Palace.
Over the years they have entered specimens into all the big flower shows winning many golds at Chelsea and designing and planting gardens for the gentry and people with money to splash on the perfect show garden. Penny and Colin have developed brand new "strains" (is that the right word?) of rhododendron - and one beauty is called "Penny Tomlin". Apparently, Penny's mother helped with developing new varieties and Colin wisely honoured his mother in law by naming one after her too! We were delighted by a display set up outside the office showing a fabulous range of colours and then had a guided tour around the nursery where we saw azalea, cornus, viburnum, acers, shrubs of all descriptions and small trees - too numerous to list. Many were most unusual specimens - not a hint of Haskins or Polhill about this nursery! Colin astounded us with his knowledge as latin names tripped from his tongue and anecdotes about almost every tree came to his mind. He is self-taught and old school - happy to get his hands dirty - and experiment. He answered every gardening question we threw at him and it was clear we were in the presence of a 'master' horticulturist with a real passion for all his plants. Starborough Nursery supplies the most esteemed customers and a tree in his car park awaits collection by Buckingham Palace. Apparently they came once to collect it but the van was too small!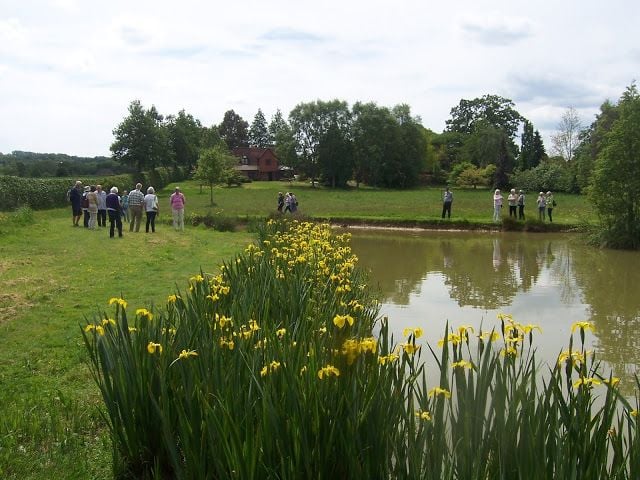 When Colin and Penny took over the plot it was simply a hay field which they converted into the nursery, built a house and then at the bottom of the sloping field, now a wildflower meadow, created a large lake. Today this was fringed with striking yellow iris Behind the lake stand some unusual conifers and trees, again planted by Colin, which have grown to create a woodland backdrop to the garden offset by distant hills. The wildflower meadow was thick with a variety of grasses, buttercups, vetch and stitchwort and often produces orchids although today we were a little early in the season. The whole effect is a work of art and one very much appreciated by us all. It was rather like being in a parallel universe for a couple of hours. The sun shone and all was right with the world.
A very big thank you to Penny and Colin for sharing their very own Garden of Edenbridge (and coffee and cakes!) with us.