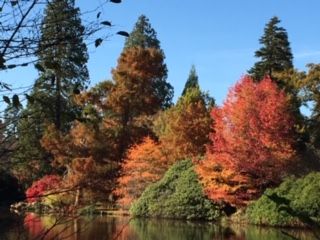 What a perfect way to crown our year with the Garden of Edenbridge group. This trip to Sheffield Park Gardens NT to see the autumn colours against a flawless blue sky and in warm(ish) bright sunshine proved to be a very rewarding end to the variety of outings we have enjoyed through 2019.
After coffee in the NT cafe, 14 of us wandered along paths and lakesides, where that special heady smell of autumn dampness rose from fallen leaves. We were oohing and aahing at every turn and flashing our cameras and phones in an attempt to capture it all.
We can thank a certain Mr. Arthur Soames for the majority of the plantings at the beginning of the last century. He was the owner then for 24 years and enjoyed travelling the globe looking for inspiration and specimens and thus is responsible for much of what we see in the garden today. The vivid colours of the trees are reflected in the lakes doubling the impact. Vibrant reds compete with fizzy yellows contrasting with limes and the darkness of evergreens. Many of the trees, which just ask to be hugged, are helpfully labelled - their trunks beginning to show winter darkness against the brightness of their foliage. Another week or two and winter silhouettes will emerge to reveal the scale of these trees, twisted trunks of ancient rhododendrons and hidden views.
Penny pointed out some brilliantly coloured Nyssa Sylvatica from North America named after various princesses and we were amazed by the size of the giant sequoia redwood - currently only 140 years old - but with a girth that suggested many more (see piccie of large lady dwarfed by this tree). Wellingtonias, maples, acers, hornbeams, tulip trees, gingko bilboa - are all somehow displayed in visual balance - clever Arthur.
Once we had our fill of this autumn spectacle, we tore ourselves away and headed off to the Bluebell Rail at Sheffield Park to feed the inner man at the Bessemer Arms there on the Victorian Station platform - often used for filming period dramas.