Wow! What a wonderful day we had courtesy of the National Trust at Nymans Gardens in brilliant spring sunshine and record-busting temperatures.
Nymans was the Messel family seat since 1890 when Ludwig Messel, a successful stockbroker and German émigré with aspirations to join English Society, purchased the 600 acre estate where he could cultivate his love of gardening and make a big impression! The history of Nymans and this highly creative family has it all - wealth, beauty, imagination, glamour, theatre, drama, and even royalty set against a breathtaking botanical backdrop.
Ludwig had a rather monstrous house built in the German style to replace the original Georgian house on the property then his son Leonard inherited the estate in 1915, He was married to Maud (surely the origins of the song "come into the garden Maud!") and at the end of the war transformed the house into the mock medieval building we see today mostly to please her. Good old Maud! Leonard and Maud had three children, including Oliver Messel, the famous theatrical costumier who got up to all sorts of things with Princess Margaret and her crowd in the Caribbean. Also Anne, a renowned beauty, married Ronald Armstrong Jones and they had a son - Anthony Armstrong Jones - you can see where this is going! Then Anne and Ron were divorced in 1935 and she joined the British aristocracy with her subsequent marriage to the Earl of Rosse. We all know that photographer Tony AJ (aka Lord Snowdon) married Princess Margaret and thus all of Ludwigs family ambitions were fulfilled. Even the dramatic and catastrophic fire which destroyed half the house in 1947 and created a partial ruin has given the property an air of charm and somehow adds to the glamour.

All the potted history of this talented family was brought to life by our charmingly self-effacing guide, Martin. His knowledge of the family history was matched only by his extensive knowledge of the abundant trees and plants in the gardens. All information was imparted calmly and quietly - maybe a ploy to keep us listening intently - it certainly worked and all "chattering" stopped as we took it all in.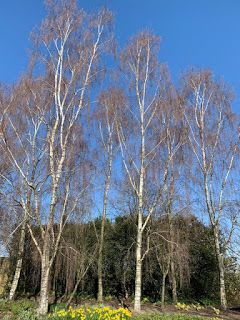 At the start of our walk we saw the arboretum which was one of the original plantings in the 1890s. Sections of the U shaped planting were lost in the '87 storm and replaced with fast growing fir trees of all descriptions. Martin pointed out the difference between a snowdrop and a snow flake - 3 large and 3 little petals; and 6 large petals respectively. Snowdrops, crocuses and winter cyclamen were everywhere so we needed to step carefully. We learnt about The Tree Register (patron Prince Charles) - this organisation identifies Champion Trees (the biggest of their type in the UK). Nymans boasts 39 in total, each tree marked out by a blue plaque. There are 32 acres of garden divided into 12 areas each with its own professional head gardener. Maud's rose garden takes 6 weeks to prune and has one dedicated head gardener. The soil needs constant attention as it is not naturally suited to rose growing. Nymans propagate their own plants called the Nymans Collection which are for sale. This way rare plants are conserved.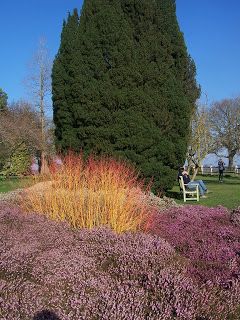 Rain Water conservation is also a big thing and this is collected and recycled through water butts and underground piping ensuring that any subsequent hosepipe ban will have no effect on Nymans. Around 6 K annuals are raised from seed and all planted on the same day in early June by an army of volunteers. Martin explained that Azaleas are a type of rhododendron therefore all azaleas are rhododendrons but not all rhododendrons are azaleas - think that's right!
Magnolias were on the tip of bursting forth and lush camellias were in full bloom. A stunning pair of camellia bushes grace the entrance to the courtyard and are named Maud and Leonard. Maud was magnificent but Leonard had some catching up to do - I suspect it was ever thus. What a place to walk around - full of hidden corners, stone archways, tree -lined avenues all surrounded by lush Sussex Weald countryside positively buzzing in the warmth of this exceptional weather.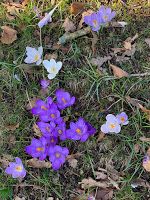 We visited the croquet lawn and the Australasian rock garden showing varieties of drought-tolerant plants and wandered around pathways fringed with swathes of heather and huge hellebore clumps. An added bonus was "The Lost words" exhibition in the house displaying the original artwork from the book "The Lost Words" and some examples of the verse each painting illustrated. Oh yes, and extra treats - all the "b's" - buff-tailed bumble bee and brimstone butterfly.
All in all a day more intoxicating than being in the U3A wine club! Surely a perfect cocktail of all the healthy things U3A stands for - sharing, exercise, looking, listening, learning, laughing.