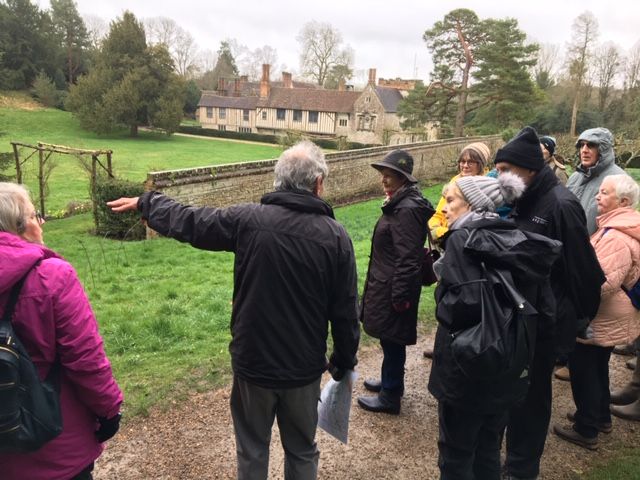 I was particularly proud to lead the Garden of Edenbridge group in February! Every soul who had booked to join the snowdrop walk at Ightham Mote turned out on what had to be the dreariest Monday morning of the winter so far - a cold wind, drizzle, yellow/grey skies and the prospect of heavy rain. I think the National Trust were quite surprised at our stoicism and we were among very few people on site; our colourful rainwear brightening up every corner of the gardens as we wandered around.
Nestled at the foot of a deep valley, the gardens at Ightham Mote occupy fourteen acres, with a sequence of water features running throughout. Ted, an intrepid gardener amongst the 30 strong volunteer team, led us around, much to our concern, without hat, gloves or wet weather gear, and explained that much of the water filters down from the greensand ridge including the Crockham Hill area so an immediate U3A link! Ted took us down to the south lake, normally closed to visitors, and the site of an ancient watermill. Here we saw a bank of the most common snowdrop at Ightham - galanthus nivalis. We were to see about 5 varieties in all, but they were mostly past their best having been drowned by recent heavy rain and trampled underfoot by rampant school children during half term l. So we were betwixt and between disappearing snowdrops and crocuses, and the promise of budding daffodils which should be in their glory in about two weeks. It is very difficult to anticipate when flowers will bloom every spring - each year is different. However, with eagle eyes we spotted other new growth - the turtle heads of budding gunnera, wild comfrey, an early forget me not, camellia, a bright pink rhododendron, several varieties of hardy hellebore, a deliciously sweet-smelling daphne bush and daisies appearing in the grass.
We were told about the history and fashions within the garden over the centuries - the house was built 700 years ago so has seen considerable change. These still continue as the NT have a Conservation Plan to restore various areas to their original use. Ted took us to the "cutting" garden where fresh flowers are picked in high summer to decorate the house and where herbs and vegetables grow. Next the orchard planted 30 years ago with ancient varieties of apple trees and beehives lurking in one corner. The path, bordered by colourful dogwood, took us past a Victorian "stumpery" freshly planted with exotic tree ferns, and down to the children's play area - currently a mud bath. There are some stunning trees in the gardens, including a huge London Plane, majestic scots pine, wellingtonia, larch, alders and a sweet chestnut possibly about 300 years old - its bark twisting around and around and just calling out for a hug.
We saw mallard, coot and moorhen on the lake, wood pigeon fussing about in early courtship and heard about the warren of badger setts under the bank by the visitor centre.
It was a real pleasure to see the bare bones of the garden just as it is waking up from the winter and to almost have it to ourselves. As Ted said, several times, you need to visit in each season to really understand and appreciate the beauty of the place. I am sure many of us will do just that.