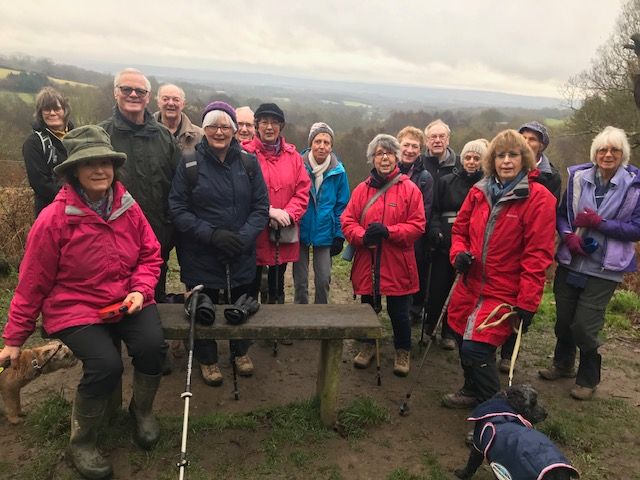 Sixteen of us and several dogs departed on the post-Christmas walk on 2 January, from the car park at Emmetts Gardens. The weather was, initially, drizzly but it soon abated and we were left with a cloudy but relatively mild day. We walked through the gardens and out into the woodland. Following the National Trust blue way marks we headed downhill, eventually coming to the Ram Pump pond. The weight of water in the pond sends water through the Ram Pump at a possible rate of 2000 gallons a day up 250 feet through pipes to fill a 10,000 gallon reservoir. This is then used to store the water for the gardens. This one dates from around 1905 and has recently been restored.
We then had a fairly steep uphill section back into Emmetts to a good view of the distant Ashdown Forest. More uphill walking took us to the top of the gardens from where we picked up the footpath to the road. After a short stretch on the road we crossed a field back onto the driveway to the car park.
Although there was some mud it was not deep and there was usually a way round these stretches.
Nine of us then went on for lunch at the Cock Inn at Ide Hill.