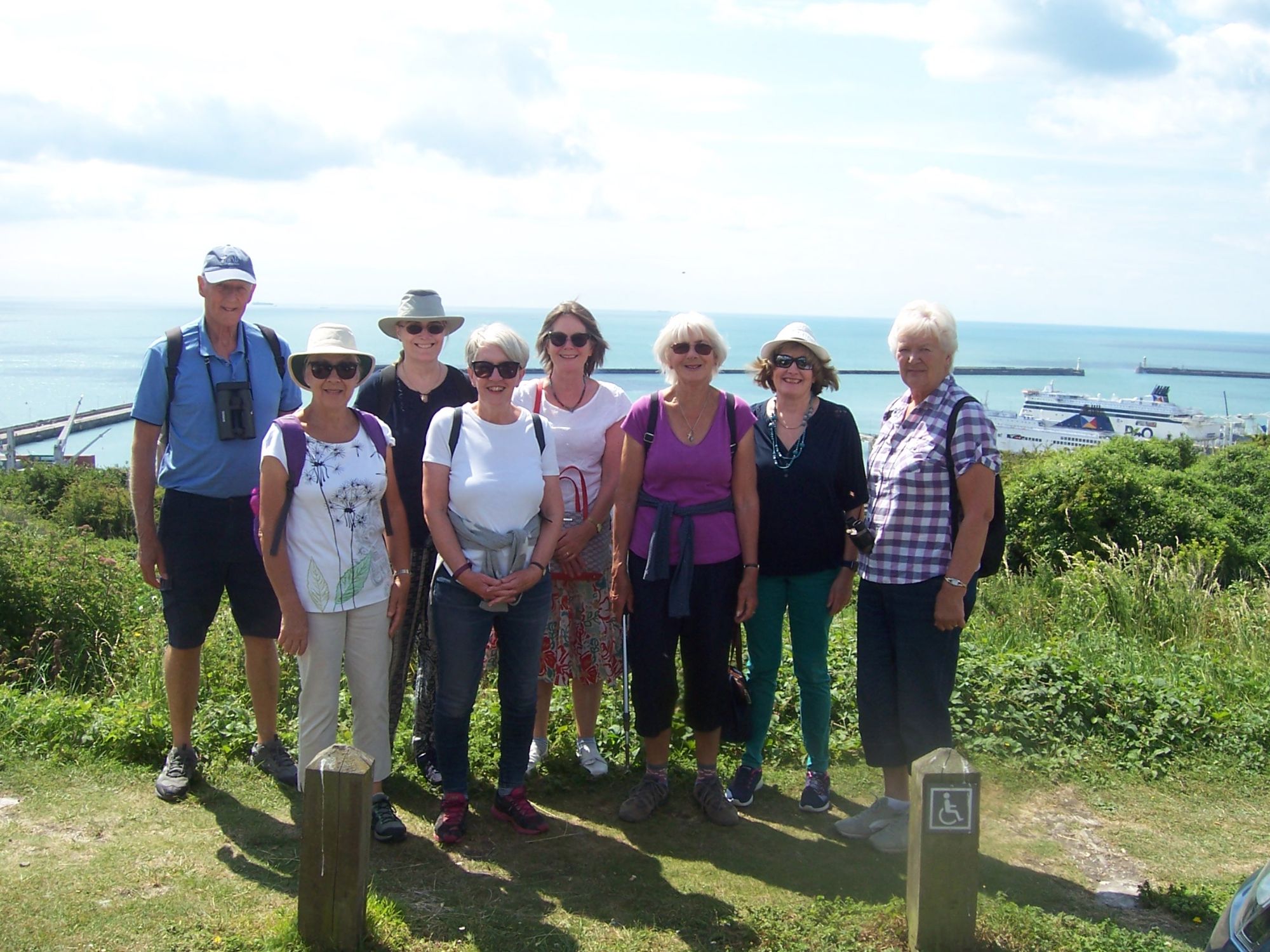 What a day we had in the environs of Dover with our flora and fauna group - an "English Channel Experience" if ever there was.
White Cliffs and Dover Harbour
This chalky downland overlooking the harbour and affording great views of the French coastline, could not be more different, geologically speaking, from our own area of the Weald. Thin, chalky soil attracts a multitude of wildflowers and insects, so we had our work cut out to identify them almost as we started our walk along the cliff tops. I am pretty confident we eventually got most of them right, but it was a challenge and we all pitched in with our ideas. Flower reference books and latin names were a great help (so many are similar to their cultivated plants in some respect or other) so I shall now list those that were mostly new to us clay-bound folk - this way we can learn more about them and recognise them another time...
Sainfoin; Common Restharrow; Broomrape; Vervain; Kidney Vetch; Yellowort; Eyebright
We strolled along knobbly white walkways cut by a million footsteps, innumerable plants either side stopping us in our tracks. A mass of wildflowers clung on to the cliff beneath us creating a tapestry curtain which must be wonderful viewed from the sea (should have brought the drone!). At sea level of course there is the rather shocking sight of Dover Harbour going about its business in spite of us, with cars and lorries poodling on and off ferries which constantly sail back and forth to Calais - France seen with the naked eye on this clear morning. The views along the coast line to the North Foreland lighthouse were magnificent - a very real reason to be proud of this gateway to our country. Once visitors get lost in the back streets of Dover they might feel differently but with an ancient castle thrown in for good measure, what a stunning first impression!
We looked everywhere for the chalk hill blue butterfly but only saw the dark brown female, but pretty marbled whites and small white flitted everywhere.
As we saw an abundance of wildflowers, I think this is the time to list as many of them as I can recall (excepting the new ones above)…...
sorrel, yellow rattle, scarlet pimpernel, sea campion, teasel, bladder campion, hedge mustard, wild mignonette, agrimony, tormentil, birds foot trefoil, red clover, herb Robert, mallow, st. johns wort, rosebay willowherb, greater willowherb, wild carrot, wild thyme, scabious, common toadflax, selfheal, vipers buglos, lady's bedstraw, fleabane, harebell, yarrow, guilder rose, old man's beard, hemp agrimony, lesser burdock, centaury, sea bindweed, convolvulus, ragwort, sea cabbage, greater knapweed, prickly sowthistle, white clover, pyramidal orchid, marjoram. Apologies if I have forgotten any. Sustained by refreshments at the National Trust tea room, we headed West along the coast to Samphire Hoe.
Samphire Hoe
Now the newest piece of mainland Britain, Samphire Hoe has been created as a nature reserve from the spoils of the channel tunnel diggings of chalk marl. It was completed about 25 years ago and planted with 30 different seeds of grasses, shrubs and wildflowers. Now over 200 species have colonised this special place that juts out into the sea below the backdrop of the magnificent Shakespeare Cliff. At the time that William Shakespeare was writing King Lear he was said to have travelled regularly through Dover. It was his familiarity with the cliffs that may well have inspired his descriptions. To this day the first cliff on the West side of Dover is known as Shakespeare cliff.
"There is a cliff whose high and bending head looks fearfully in the confined deep… The crows and choughs that wing the midway air scarce so gross as beetles; halfway down hangs one that gathers samphire, dreadful trade!".
Rock samphire was once collected from the cliffs and beach. Its fleshy green leaves were picked in May and pickled in barrels of brine and sent to London, where it was served as a dish to accompany meat. Thus this new area has been named "Samphire Hoe" - a hoe being a piece of land that sticks out into the sea. Here we saw fresh clumps of yellow Tall Melilot (identified by Alice), carpets of common restharrow, wild carrot with its tell tale red centre spot, sea buckthorn bushes invaded by starling flocks and of course samphire and sea lavender sprouting from cracks in the man made steps as well as the rocks. We walked the length of the Hoe, spotting peregrine falcon, raven and linnets en route (thank you Rog), until we reached the western beach that curves around to Folkestone beneath the famous Warren Nature Reserve undercliff, Just before the beach, eagle eyes (thank you Barbara) spotted a huge bird landing high up on the greenery that threatens to obliterate the chalky white of the cliffside. Much debate as to identity followed, but we were finally happy to pronounce it an OSPREY of all things - a very rare sighting of this iconic fish-eating bird of prey, presumably heading back to Africa after nesting in the Highlands. They travel alone in day light hours crossing the English Channel, then France, Spain, Sahara to Western Africa.
We crowned our English Channel Experience with yet another view, this time through the bay windows of the Grand Hotel in Folkestone, famous bolt hole of Edward 7th. We were more than ready to fill our tummies after feasting our eyes all day!