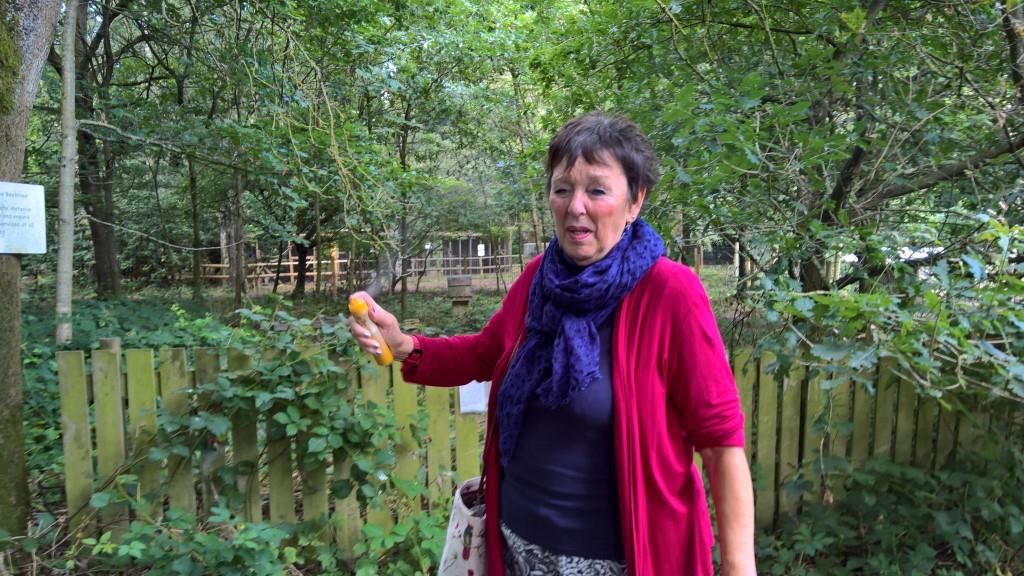 Well the month of August is called the "silly season" for a reason - it's considered that not much happens and there is often little news to report. This proved to be the case on two counts for our outing yesterday to Coolings Nursery and Nature Trail in Knockholt as little was newsworthy and it was all very silly!
Photo: Briar using her Boots body spray to clear the air by the pig pen
But confusion abounded from the start - a couple of folk went to the wrong Coolings - well there are two in the same road so that wasn't too surprising. But by the time we had gulped our coffee, dealt with indecision over macs, went to the loo, etc. and all got together squeezing through the ticket office, we were late for the first demonstration - "woodland creatures" under the Christmas Tree!. Thus it was that 8 ladies could be seen rushing down pathways, coming upon cul de sacs and deadends, headless amongst the chickens and accompanied by the screeching of caged owls and grunting wallabies doing their bit towards the circle of life - more "back to nature" than a mere nature trail methinks. If only it could have been captured by overhead drone - it would have made a fantastic farce or some sort of weird experiment in orienteering. For what seemed an eternity we followed random signs into "arenas", "glens", "sanctuaries" etc. looking for the all important Christmas Tree in vain until we found a volunteer preoccupied with worming a weasel or some such, bizarrely inside the cage herself and with a strong American accent. Wordy directions and a vague wave ultimately translated to simply "over there".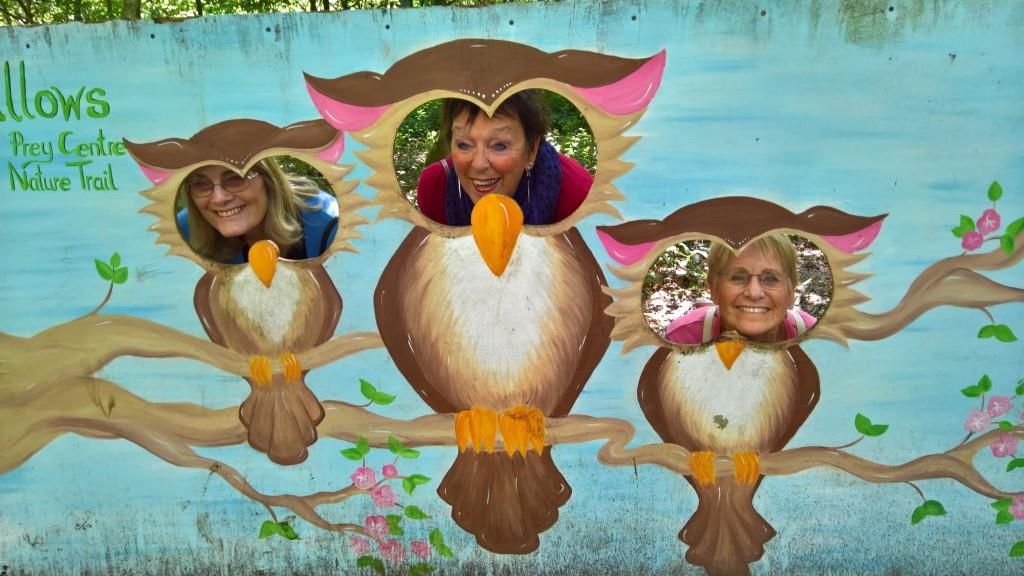 Photo: Claire, Briar and Stephanie attempting to look wise
Feeling at this stage we had somehow fallen into a parallel universe we eventually stumbled upon the demo which unsurprisingly, as we were 25 minutes late, was coming to a conclusion. Hey ho. By this point most of us are firmly wearing our "grumpy old women" hats so the innocent demonstrator got the full force of our frustration. "You should have looked at the map" was his response but since we were not offered one at the ticket office and had foolishly assumed the way would be obvious since it is designed for children! we made it clear that we didn't think much of the customer service at reception only to discover it was being manned by his daughter!. Oddly there was no sign of a Christmas tree but we let that go. Somewhat chastened, we slunk away with our tails between our legs to join other equally dejected looking creatures along the paths - pestered parents, ponky pigs, wilting wallabies, despondent ducks. I am overegging it here - it was actually not bad at all if you were a child with a pressing need to handle an owl or become a human sundial. We did manage to find plenty to laugh about, including ourselves. But we all agreed it was one for the kiddies since they are generally not much concerned about mud, maps, timing, directions etc. Youngsters can have a good run around, only being a worry to their parents as they get lost in this seemingly vast reserve. They might even glance more than sideways at such creatures as racoons, goats and llamas alongside fabulous all-knowing owls from around the world. For us, it was enough fauna to last several months and dear old flora didn't get a look in!
With some sense of relief we left the muddy, murky pens and paths behind as lunch beckoned from the other Coolings - the original one on Rushmore Hill. After food and a good natter, we spent a happy hour drooling over the superb plant collection at this award-winning nursery, whilst trying not to get depressed by the sight of autumn chrysanths, winter planting cyclamens and pansies. Where has this summer gone!? Judy was able to buy a pretty hibiscus for an empty spot in her garden and Penny patiently directed me towards male holly bushes after I whined that my variegated holly bush had spring blossoms but now no red berries, apparently making it female. It seems hollies need to have sex (just like everyone else and wallabies I suppose) but the fact that I have to facilitate this is a rather disturbing responsibility. I shall now have to play matchmaker, buy her a male bush for company and look the other way.