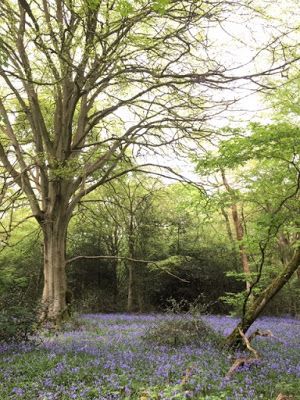 I am sure all those who joined in our walk through the bluebells on 24 April in Staffhurst Woods will agree that we live in an exceptional area and are so lucky to have such a place on our doorstep.
The bluebells were, of course, the stars of the show but we were also able to appreciate many other woodland species set against their vivid backdrop - acid green euphorbia, candy pink campion, the occasional burst of primrose, the comforting sight of cushiony dandelion and a stunning patch of blue bugle (ajuga) standing proud by the path. The wood anemone and celandine were moreorless over; the recent warm weather will have seen them off.
The woods with alive with birdsong calling for mates and marking territory.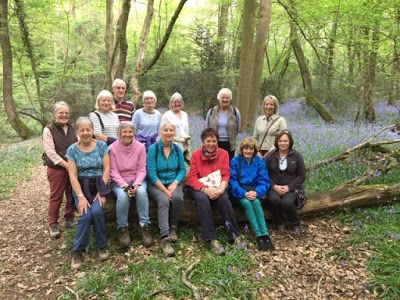 These ancient woodlands are over 1000 years of age and a designated Site of Specific Scientific Interest. Mostly the trees are extremely tall and we were challenged to name the species as the leaves were bursting out many feet above us and difficult to identify. However, we were confident in labelling the beech, hornbeam and oak and sharp eyes spotted the creamy white flowers on the many holly trees in the woods. Only the female hollies will show berries so the males will be busy pollinating as we look. A problem appeared to be afflicting some of the tree barks causing them to flake and peel off. Fingers crossed this is natural decay and nothing too sinister. Occasional bursts of white hawthorn blossom appeared but this is a wood on a grand scale with little in the way of bushes and a floor littered with cleavers, brambles, wild arum and woodland speedwell - all happy to live way down in the relative gloom. We were reminded of the saying "ne'er cast a clout til May is out" and confirmed that this applies to the may flower rather than the month so it was okay to peel off a layer or two.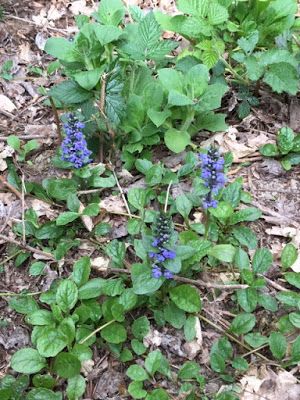 Diana was our leader for the walk (thank you Diana) and took us to woods both sides of the road which we crossed twice. Surprisingly there is a handsome private property in the middle of the trees and evidence of the munitions dump created in WW11. The paths through the woods are particularly good for pedestrians as they were "laid" with aggregate all those years ago to enable the movement of trucks etc.
All in all, a delightful spring experience touching all the senses - especially our noses - how come the scent of bluebells never seems to be bottled? nor do they last once cut - perhaps this elusiveness adds to the privilege of walking amongst them.
We have Bob and Jan Hart to thank for the lovely photographs.
Happy Days in the Garden of Eden!